Take Action
Williston Stream Clean-up. Saturday September 14th. 9 am – 12 pm with after party at Burlington Beer Company. Free. Flyer.

Are you ready to get your hands (and boots) dirty for water quality? Winooski NRCD is seeking volunteers to help remove trash from local streams in Williston, VT on Saturday, September 14th.
A volunteer training will take place at 9:00am in the Goodwill Parking lot in Williston (64 Harvest Lane). Volunteers will then break into teams to clean up the identified sites. Work is anticipated to be complete around noon.
Volunteers will spend the morning wading through stretches of rivers to remove debris like bottle caps, cigarette butts and tires. Volunteers should wear tall boots and work clothes and be prepared for the weather. Work gloves will be provided if needed. Anyone is welcome to join, but WNRCD strongly recommends only bringing children over the age of 10. All children must be accompanied by an adult at all times. A thank-you reception with refreshments will be held at Burlington Beer Company after the event.
Why should you sign up? Removing trash from urban streams improves habitat for wildlife like fish, turtles and amphibians and it prevents debris from washing further downstream where it will end up in Lake Champlain.
The first 15 volunteers to sign up will receive a free Stream Team t-shirt on the day of the event (limited size availability)
This event is supported by the Chittenden Solid Waste District and the Town of Williston with additional sponsorship from Burlington Beer Company and Guy's Farm and Yard. We will end the morning with a volunteer appreciation event outside the Burlington Beer Company tasting room. Register here.
All volunteers must sign our volunteer waiver. Save yourself some time by printing and completing it before the day of the event. Be sure to print both sides. VolunteerWaiver
---
Our members are those residents and visitors who have a vested interest in Natural Resource protection and want to make a difference by participating in workshops, stream cleanups, informing decision making and staying up-to-date on the most current natural resource topics and science.  There are multiple membership levels for both residents and businesses.
Fore more information on becoming a WNRCD Stewardship Member click here.
---
If you would like to receive notification of events (tree plantings, outreach, fundraising, etc), when we need volunteers, please sign up to be on our mailing list and be the first to know about upcoming events, volunteer opportunities, and more.
---
Donate to the Watershed Restoration Fund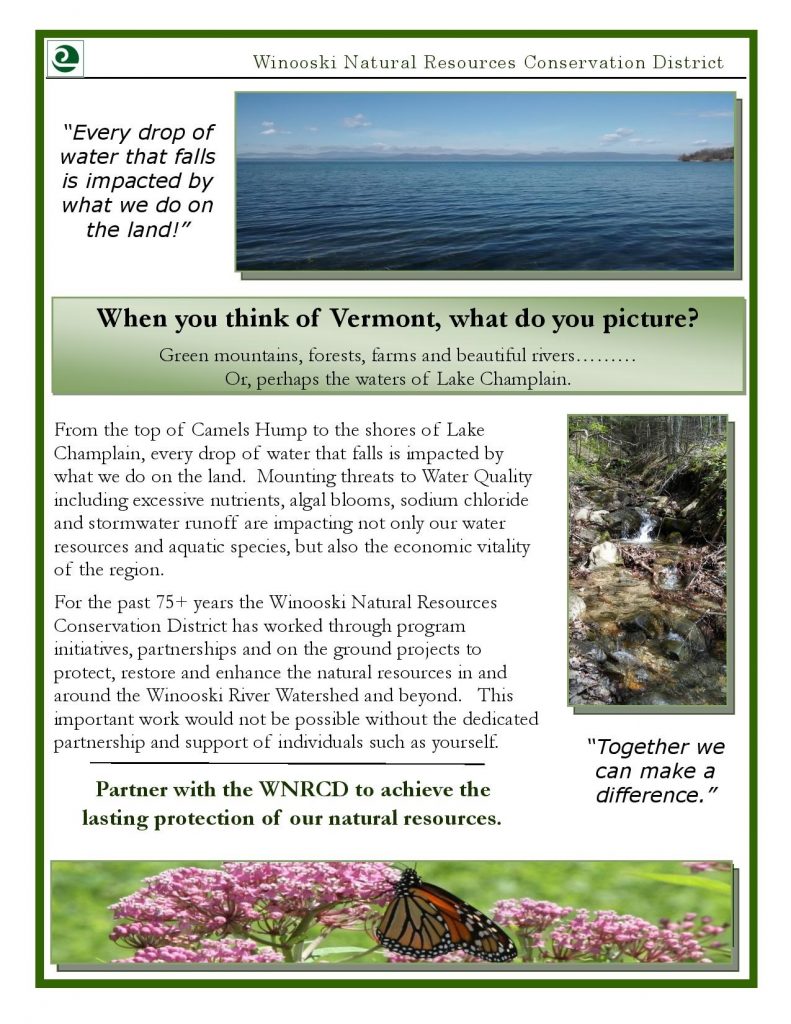 Your generous donation to the WNRCD Watershed Restoration Fund allows us the opportunity to maintain and grow current programs and initiatives that benefit all those who live in or visit the areas within the District.  We call on you to partner with us to protect the natural resources of the District.  Together We Can Make A Difference