There are many ways you can get involved with conservation efforts throughout the year. Below is a list of ongoing projects. Please be in touch with info@winooskinrcd.org if you are interested in volunteering. We also welcome the participation of school and college groups and can create special projects.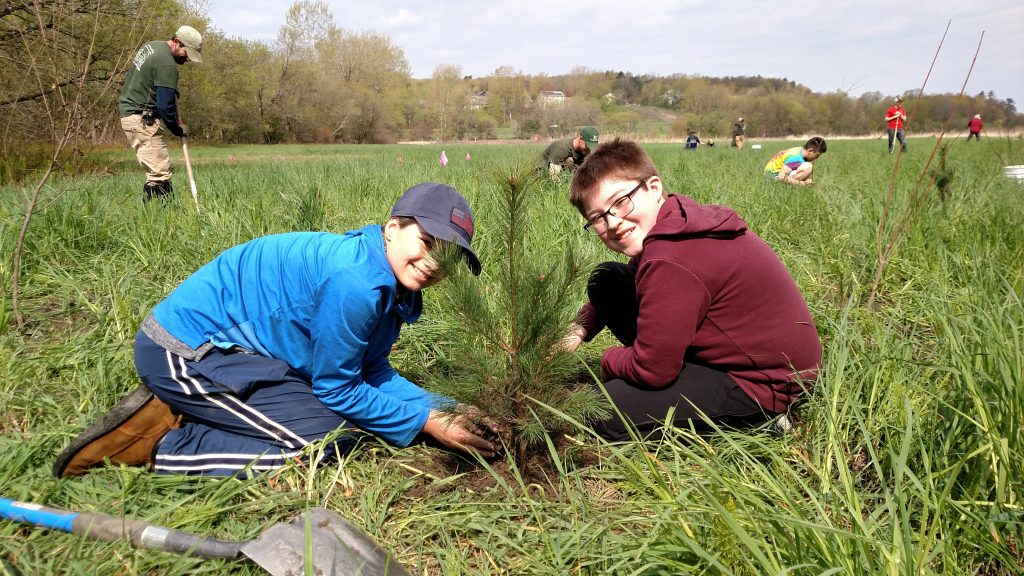 Ongoing Opportunities:
Adopt a Stream Buffer: Every year we plant 1,000-3,000 trees in along streams. The first three years of a saplings life are the hardest to survive, so they need a bit of TLC to thrive. Sign up to steward one of our past planting sites throughout the year. Visit the site at least 3 times a year to check on the trees, weed around them and remove trash on site.
Digital Project Assistant: Do you love looking at aerial imagery on Google Maps? Cruise around the VT landscape from your computer to help us identify stretches of stream in out district that could use some habitat restoration or erosion control. Using river corridor plans, DEC basin plans and maps, help us figure out where to target our tree-planting outreach and more. Training available for the right person.
Adopt a Rain Garden: Winooski NRCD and Rethink Runoff Stream Team have installed 10 rain gardens in the greater Burlington area and often need folks to help us maintain them. Currently all gardens are adopted, but current volunteers may appreciate an extra set of hands. Or perhaps you have an idea about where to build another garden!
Tree Planting: Help us plant trees along streams to improve water quality and increase wildlife habitat. We will have two planting dates in the spring and two in the fall. Stay tuned here or send us an email to be notified when we select planting dates.
Tree Sale: Volunteer to help with our annual Tree Sale. The tree sale is a fundraiser for the district and also an opportunity for folks to plant native species on their property. We always need help advertising, creating educational materials, setting up for the event and assisting customers on the day of the event. The sale usually happens the last Saturday of April. We need volunteers to sort and pack trees the week before the event and to help distribute trees to customers on pickup day.
Citizen Science: Volunteer as a citizen scientist with the Stream Team to take water quality samples in the greater Burlington area. Volunteers sample phosphorus and chloride on a bi-weekly basis from late May to late August.
All volunteers must sign our volunteer waiver. Save yourself some time by printing and completing it before the day of the event. Be sure to print both sides.
---
Join Our Mailing List
If you would like to receive notification of events (tree plantings, outreach, fundraising, etc), when we need volunteers, please sign up below to be on our mailing list and be the first to know about upcoming events, volunteer opportunities, and more.