Winooski NRCD hosts an annual tree sale as a service to residents of the District. We offer a wide selection of tree and shrub species for home, garden, and conservation projects. All proceeds from this fundraiser are used to develop and implement on-the-ground projects that protect our natural resources.
Our 2021 Tree Sale is now closed.
Thank you for a great year!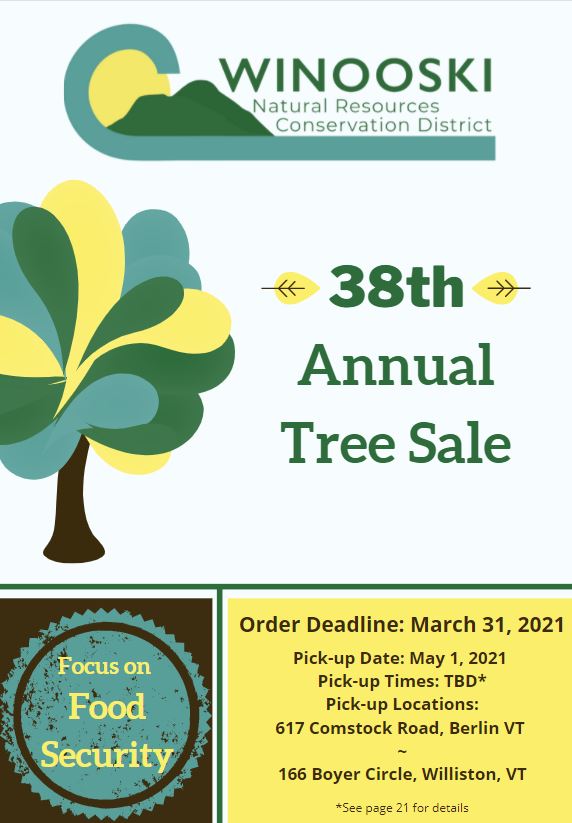 Curious what you missed? Check out our brochure for inspirational planting plans, raffle prize details, planting and care information and pick up logistics. A huge thank you to our UVM Student Communications Action Team for their hard work on this brochure and a special appreciation to our sale sponsors!
Important things to note
Pick-up is scheduled for Saturday May 1st, 2021. Failure to pick up trees at the scheduled time will result in forfeiture of your order. Please find a friend or neighbor to pick up your order if you are unavailable.
Pick up locations are: 617 Comstock Road, Berlin VT or 166 Boyer Circle, Williston, VT.
There is no warranty on any products. To minimize losses, please follow planting and care instructions.
We would like to express our thanks to our 2021 Tree Sale Partners and Sponsors: