Required Agricultural Practices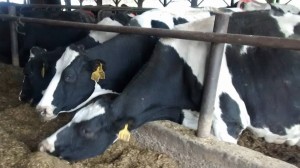 As a result of Act 64—the Vermont Clean Water Act—signed into law in June 2015, the Agency of Agriculture was tasked with updating the Accepted Agricultural Practices (AAPs) to further reduce the impact of agriculture on water quality across the state. The Required Agricultural Practices (RAPs) are an updated version of the AAPs, the rules in place since 1995 which regulate farms in order to protect water quality, re-written to a higher level of performance.
---
WNRCD Helps Farmers Write Nutrient Management Plans
Do you manage a Certified Small Farm Operation in the Winooski District? WNRCD can help you write a Nutrient Management Plan (NMP) for free! NMPs are required for Certified Small Farms to be in compliance with the RAPs. Here's how it works:
WNRCD staff and a Land Treatment Planner will meet with you for an initial interview about your farms
WNRCD staff takes soil samples from all fields to be included in the plan
Farmers participate in a 6-part course, led by UVM Extension, about managing nutrients on your farm (Jan-Feb)
Farmers complete "homework" between classes if necessary to upload farm data to GoCrop
Farmers collect manure samples
Farmers write their own NMP plan using data from WNRCD staff and the Land Treatment Planner
If you think your farm might be a good fit for this program, email Conservation Specialist Kristen: kristen@winooskinrcd.org
---
For a summary of the new RAP's: click here
To learn what "size" your farm classifies as:  click here
To see effective dates of activities regulated under the rule: click here
---
Part 1 through 3 of the Winooski Natural Resources Conservation District hosted presentation on the Vermont Required Agricultural Practices conducted 2-21-2017.
To view the presentation slides; VAAFM-RAP-Presentation
---
Links to more information
http://agriculture.vermont.gov/rap   About the RAP's
http://agriculture.vermont.gov/water-quality/regulations/sfo  Regulations for small farms
---