Watershed Stewardship

A watershed is an area of land where all water travels to the lowest point – a river, stream or lake. Water slides down the sides of the area from the highest point to the bottom of the watershed, like rain falling in a large bowl or basin. On its way, the water travels over land, across fields, forest, lawns and city streets, or seeps into the soil and travels under ground. No matter where we go we are in a watershed.  Whether it's a watershed as large as the Winooski or as small as a backyard, human actions have an impact.  A faulty septic system in Worcester can affect people's ability to enjoy a downstream swimming hole in Middlesex.  A beaver dam that fails in Cabot can cause flooding below in Plainfield.  Soil that runs off a construction site in Huntington can affect the fishing in Richmond.  In our watershed stewardship work, we develops projects and programs that minimize these impacts and enhance or protect the natural function of our watersheds.
---
Riparian Buffer Installation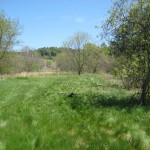 Every year we plant between 1,000 and 2,000 trees along rivers and tributaries in the District through our Trees for Streams program. Riparian buffers are an important component of ecosystem of a river and serve many functions, from pollutant mitigation to stream bank stabilization and flood plain resiliency.
We are currently seeking landowners within the District who own property along rivers that want to improve flood resiliency, improve wildlife habitat and lower the amount of pollutants entering the river.  For more information on participating in our trees for streams initiative, please email: info@winooskinrcd.org
---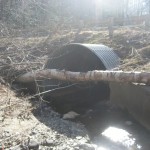 Aquatic Organism Passage
In Vermont, many species of fish and wildlife utilize streams, wetlands and adjacent riparian lands.  For a variety of reasons, these species rely on the ability to move throughout the watershed unimpeded.  Through the combined effects of dams and poorly designed stream crossings, we have blocked many streams and forced fish and wildlife to cope with these restrictions. Many populations of stream-dependent species have been diminished or lost completely because of these barriers.
In an effort to address these issue, WNRCD identifies areas where passage may be hindered  and works with towns and road crews to make necessary changes to the offending structure (typically perched culverts).  Leveraging various funding sources, WNRCD is then able to secure designs and financial assistance for either replacements or retrofits.