Watershed Stewardship
A watershed is an area of land where all water travels to the lowest point – a river, stream or lake. Water slides down the sides of the area from the highest point to the bottom of the watershed, like rain falling in a large bowl or basin. On its way, the water travels over land, across fields, forest, lawns and city streets, or seeps into the soil and travels under ground (ground water).  We may not always realize it, but no matter where we go we are in a watershed.  Whether it's a watershed as large as the Winooski or as small as a backyard, human actions have an impact.  A faulty septic system in Worcester can affect people's ability to enjoy a downstream swimming hole in Middlesex.  A beaver dam that fails in Cabot can cause flooding below in Plainfield.  Soil that runs off a construction site in Huntington can affect the fishing in Richmond.  In our watershed stewardship work, the WNRCD develops projects and programs that minimize these impacts and enhance or protect the natural function of our watersheds.
---
Water Quality Monitoring
The WNRCD has taken the lead on the valuable water quality monitoring of the Huntington River located within Huntington and Richmond VT.  Utilizing citizen scientists, and partners under the LaRosa Partnership Program, the District is working towards identifying and mitigating the sources of E.coli.  To learn how to partner, please visit the Huntington River Conservation Partnership  or read Huntington River Volunteer Water Quality Samplers Needed
---
Riparian Buffer Installation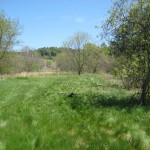 In 2012, WNRCD received funding from the Vermont Department of Environmental Conservation's (VTDEC) Ecosystem Restoration Program for a project aimed at improving streamside riparian buffers throughout the Winooski River watershed.  Through the Trees for Streams program this project has grown and expanded. Riparian buffers are an important component of ecosystem of a river and serve many functions, from pollutant mitigation to stream bank stabilization and flood plane resiliency. Ensuring that riparian buffers are well established has been a core objective of the District for over 75 years.
The WNRCD is currently seeking landowners within the District who own property along rivers that want to improve flood resiliency,  stabilize their banks, improve wildlife habitat and stop pollutants from entering the river.   For more information on participating in our trees for streams initiative, please complete the form below or email: info@winooskinrcd.org
---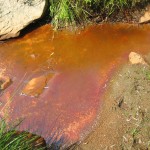 Habitat Restoration in Watersheds
Tropical Storm Irene had a devastating effect on fish populations in the Mad and Dog Rivers.  According to data collected by the Vermont Department of Fish and Wildlife, wild trout populations are currently anywhere between 33% and 58% of pre-flood levels.  In an effort to expedite natural re-population in these important fisheries WNRCD is working with local, state, and federal partners to implement habitat restoration strategies in critical reaches of the larger tributaries.  In the summer and fall of 2012, WNRCD and its partners assessed over 300 stream reaches using a modified version of the Rapid Habitat Assessment Protocol.  Based on that information we selected prioritized the assessed reaches and  targeted the lowest scoring sites for restoration work.
---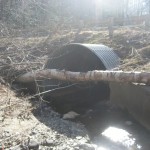 Aquatic Organism Passage
In Vermont, many species of fish and wildlife utilize streams, wetlands and adjacent riparian lands.  For a variety of reasons, these species rely on the ability to move throughout the watershed unimpeded.  Through the combined effects of dams and poorly designed stream crossings, we have blocked many streams and forced fish and wildlife to cope with these restrictions. Many populations of stream-dependent species have been diminished or lost completely because of these barriers.
In an effort to address these issue, WNRCD identifies areas where passage may be hindered  and works with towns and road crews to make necessary changes to the offending structure (typically perched culverts).  Leveraging various funding sources, WNRCD is then able to secure designs and financial assistance for either replacements or retrofits.  

Examples of AOP Projects that the WNRCD has partnered on.
SCOTT POND DAM SALMON JUMP POOL IMPROVEMENT: Helping Lake Champlain Steelhead and Atlantic Salmon get to their Native Spawning Grounds on Lewis Creek CHARLOTTE, VERMONT
To see the award winning project view: Scott Pond jump pool ACEC 2016 poster
This project was funded by a grant from US Fish and Wildlife Service to the Winooski Natural Resources Conservation District. The Conservation District managed the project, US Fish and Wildlife provided technical support, and Milone & MacBroom performed the project design. We would like to thank the landowner for granting access to the project site, the Lewis Creek Association for supporting restoration work in the watershed, and the Vermont Department of Fish & Wildlife for providing technical assistance.
BRADLEY BROOK AQUATIC HABITAT IMPROVEMENT: Bradley Brook  a tributary of the Mad River contained a single culvert blocking all aquatic organism passage to the entire headwaters. In 2009 the Vermont Fish and Wildlife conducted a brook trout population estimate near the culvert which resulted in 2968 fish/mile. Since that time the system has experience massive flooding during Tropical Storm Irene and several major flooding events throughout the summer of 2013 that have decreased the population. In July of 2013 the US Fish and Wildlife Service obtained an estimate of 1901 fish/mile. Reconnecting the stream to its upper reaches was necessary for the native population of brook trout and other aquatic organisms to regain their numbers.  The partnership project between WNRCD and other organizations  returned Bradley Brook to its natural down gradient correct geomorphic compatibility, will improve water
quality and create future flood resiliency as well as opening up fish passage.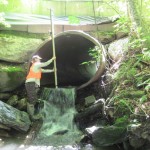 HAYES ROAD AQUATIC ORGANISM PASSAGE  Due to an undersized; failing culvert on Hayes Road, trout populations had reduced habitat connectivity. The culvert  located in the headwaters of Crossett Brook, has a drainage area of 1 square mile.  In May 2011 the crossing washed out and was replaced with a poorly built, undersized culvert. The culvert was distorted and sagging with substantial buckling of the roof under the roadway taking place.  It was documented that erosion was wearing away at the blocks supporting the structure causing the footings to become unstable.  If the culvert had not been replaced, significant down-stream scour could have occurred. It was expected that the culvert would washout again causing an estimated 700 cubic yards of material to be washed into the stream. Thanks to the efforts of many partner organizations lead by the Friends of the Winooski River and funding sources including the Lake Champlain Basin Program and NEIWPCC, the partners were able to install an open bottom arch that meets state standards for fish passage and hydraulic capacity. The project reconnect 3 miles of important native brook trout habitat waters, thereby supporting lower water temperatures, improving spawning success and promoting flood resiliency within the system.  Final instillation of the new culvert was completed in October of 2015.
---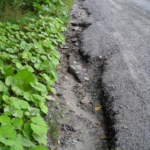 Class III and IV Road Erosion Assessments
In late 2011, the Central Vermont Regional Planning Commission (CVRPC) received funding through the Ecosystem Restoration Program to complete a Class 3 and 4 road erosion assessment project in the North Branch and Kingsbury Branch watersheds.  The project was funded on the premise that Class 3 and especially Class 4 town roads are typically located on steeper grades in narrower valleys and are often located in very close proximity to waterways.  The project provided an opportunity to locate and identify water quality impairments associated with these public roads, conduct an inventory of these Class 3 and 4 town roads, and prioritize restoration projects, and develop recommendations for remediation.
CVRPC, WNRCD and the Friends of the Winooski River (FWR) conducted inventories in the summer and fall of 2012.  These inventories included information on slope, soil cover, and amoutn of deposition to adjacent waterways .  The information collected so identified a number of locations where intervention would be prudent.
---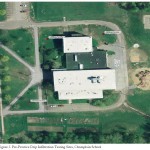 Watershed Study
In the fall of 2011, the Winooski Natural Resources Conservation District (WNRCD) partnered with Stone Environmental to investigate the infiltration rates at eight properties in the Englesby Brook watershed. With the cooperation of the City of Burlington and the City of South Burlington, they developed, tested and implemented strategies to slow runoff, to improve the infiltration rates of stormwater, and to capture sediment and other pollutants known to be affecting water quality in Englesby Brook. The research that was undertaken was intended to provide the quantitative support validating strategies to improve water quality by improving compacted soils and disconnecting direct connections to the storm sewer system.
---
Phosphorus and Sediment Study
The WNRCD worked with partner landowners, municipalities, consultants, VTDEC and other organizations to gather detailed information and to develop recommendations for stabilization of a large gully draining into Great Brook.  Massive sediment erosion created a delta and sediment filled water flowing into the river.
---
Watershed Project Identification and Development
In 2008 the WNRCD received funding from VTDEC to work with partner Arrowwood Environmental to complete the Browns River project identification and development initiative.  This included coordination of Steering Committee, grant administration, outreach and communication to stakeholders, project identification, analysis and development and corridor planning.
---
For more information on current and past project conducted by the WNRCD please email: info@winooskinrcd.org