Annual Tree Sale
Winooski NRCD hosts an annual tree sale as a service to residents of the District. We offer a wide selection of tree and shrub species for home, garden, and conservation projects. All proceeds from this fundraiser are used to develop and implement on-the-ground projects that protect our natural resources.
Our 2021 Tree Sale is live!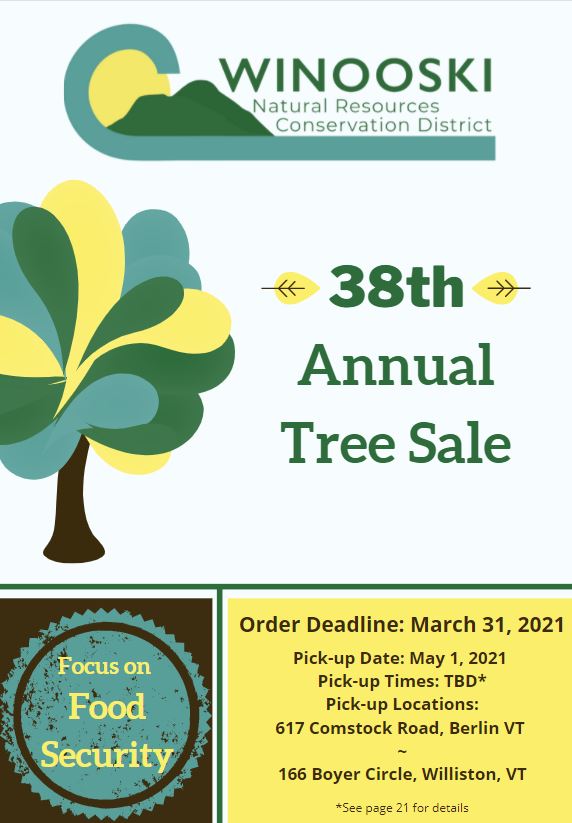 Check out our brochure for inspirational planting plans, raffle prize details, planting and care information and pick up logistics. A huge thank you to our UVM Communications Action Team for their hard work on this brochure and a special appreciation to our sale sponsors!
How to Order
Online: Use e-commerce platform below. Add items to your cart, check-out and pay with credit card or PayPal account (Note sale price becomes active on Jan 1).
On paper: Download

this order form

and follow instructions at the bottom to mail in along with a check for payment. Please note these order forms may not reflect current stock availability and the quickest way to secure plants is to order online.
For gift card holders: Online you can enter your Card Number as your coupon code at checkout. On paper there is space for you to fill in the Card Number and value.
Important things to note
Early bird pricing is available until January 31st, 2021. ALL orders must be submitted by March 31st, 2021. Pick-up is scheduled for Saturday May 1st, 2021. Failure to pick up trees at the scheduled time will result in forfeiture of your order. Please find a friend or neighbor to pick up your order if you are unavailable.
Pick up locations are: 617 Comstock Road, Berlin VT or 166 Boyer Circle, Williston, VT. Please indicate "Berlin" or "Williston" with your order.
Orders are confirmed upon receipt of payment. Species and counts are limited and are sold on a first-come, first-served basis so order today! Images online and in brochure may not reflect exact species or cultivar.
There is no warranty on any products. To minimize losses, please follow planting and care instructions.
Online product descriptions and print order form details product size at pick-up in bold (for example: One set of 3 tubers, or 24-36″ tall)
We sold out of a lot of stock very quickly this year. If you don't find what you're looking for here, consider supporting another Conservation District sale. Check out other options here.
April communications. Covid-19 brought new and unexpected challenges to our 2020 Tree Sale. We will need to contact customers in April to confirm a final pick-up time. Depending on conditions we may again pursue contact-less curb side pickup and process all other customer choices via email/phone in advance (i.e. fire sale of left over stock, raffle drawings, blueberry cultivar selections, etc.). Please make sure your contact information is accurate and checked regularly after the sale closes. Blueberry cultivar selection and fire sale of left over stock will be processed in April on a first come basis.
We would like to express our thanks to our 2021 Tree Sale Partners and Sponsors:

Showing all 13 results