We provide farmers with the technical, financial, and educational resources they need to be good stewards of the Vermont landscape.  Through voluntary programming and targeted outreach, WNRCD provides technical and financial assistance to agricultural producers who are interested in implementing sound conservation practices.  Our close connection with the Natural Resources Conservation Service (NRCS),  the Agency of Agriculture, Food, and Markets, and UVM Extension allows us to lay out a variety of options and pinpoint specific programs that may be of interest to farmers,based on their specific concern or needs.
---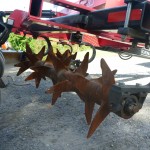 Aerator Rental Program
In 2012, WNRCD received grant funding from the Lake Champlain Basin Program for the purchase of an aeration tiller and the District has made this equipment available to local farmers for $3 per acre in addition to a small per mile transport fee.  We are partnering with Stone Environmental and UVM to determine specific water quality improvements from the use of the aerator.
If you are a farmer and have an interest in using the aerator, please contact the WNRCD at 802-288-8155 ext. 104 or info@winooskinrcd.org
A copy of the rental agreement can be found here: Aerator Rental Agreement and Release-2016
To learn more about soil aeration as a Best Management Practice to protect water quality, click here.
---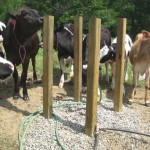 Agricultural Outreach Initiative
The Winooski Conservation District (WNRCD) continues to search out and receive funding for our Agricultural Outreach Initiative. Programs are continually developed to assist small livestock farms take the steps necessary to develop a Nutrient Management Plan (NMP) and understand the changes to the Required Agricultural Practices.
Farms that have developed a Nutrient Management Plan have reduced their fertilizer costs, on average, by 23%. NMPs can help farms optimize yield goals, minimize inputs, and reduce the potential of water quality impacts from nutrient runoff. It's beneficial to both the farm economy and the environment.
Outreach on Required Agricultural Practices
Under the Agricultural Educational Series, the WNRCD has begun holding presentations and outreach on the new Required Agricultural Practices.
To view presentations, informational handouts and more, click here.
---
Solutions to Success; Agricultural Best Management Practices
The WNRCD multi-media, interactive presentation details what BMP's are, why they are needed, and describes success stories.

In 2012, Conservation Districts statewide received funding from the legislature for a program aimed at improving agricultural water quality through education and outreach to beginning, small, and medium farms. As a main component of this effort, District staff met with local farmers to discuss their farm operation, short-term and long-term goals, management objectives, etc. Through a series of questions, District staff gained a greater understanding of the farm operation and how it might grow in the future. Based on this information, District staff then recommend beneficial conservation practices and provide information on what resources and programs are available to get the practices implemented. Practices include cover cropping, fencing, high tunnels, clean water diversion, water source development, etc.
Another component of this project was the development of a Conservation Practice Guide. The guide includes in-depth descriptions of conservation practices, their benefits, associated costs, construction standards, and what technical and financial resources are available. It also includes pictures of practices and success stories from local farms.
More information and links to chapters can be found at: http://www.vacd.org/introduction
---
Further information on beneficial conservation practices are described in the WNRCD Agricultural factsheet series.
---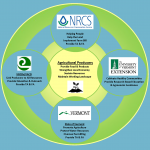 VACD RCPP NMP Program (Nutrient Management Plans for Small Farms)
2017 VACD RCPP Application and Release Form TA
Through our partnership with the Vermont Association of Conservation Districts, UMV Extension and NRCS, the WNRCD works with farmers on the development of a certified Nutrient Management Plan. WNRCD can help sign up small farms for the program and collect soil and manure samples.
If you are interested in participating in the class and preparing your own Nutrient Management Plan please review the links below. To request more information please email: info@winooskinrcd.org
RCPP Frequently asked questions
---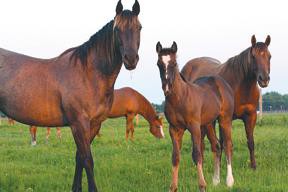 In 2014, the Winooski Natural Resources Conservation District (WNRCD) received an Ecosystem Restoration Program (ERP) Grant from the Vermont Department of Environmental Conservation (VT DEC) to develop a horse manure composting program. WNRCD staff seek to work with horse owners within the District (Chittenden County, Washington County and the towns of Orange, Williamstown, and Washington) to improve water quality conditions by preventing manure and manure runoff from entering local waterways.
Small horse farms produce a significant quantity of manure; each day a mature horse can produce up to a cubic foot of manure. When horse manure is not managed properly it can leach nutrients and pathogens to surface and groundwater. Understandably, horse manure is often piled in easily accessible and convenient locations on the land. However, a horse owner may be unaware of how snow melt and rain may interact with the pile to cause polluted runoff to enter local waterways.
WNRCD works with horse owners to identify suitable locations to store manure and to compost manure that are both environmentally friendly and convenient for the landowner. Composting manure allows soiled bedding material and animal waste to break down and create an extremely valuable input for the land. Composting manure can also improve water quality by preventing polluted runoff from entering water bodies.
For more information on constructing a horse compost bin click here.
Horse Manure Composting factsheet