Past Events
The Do's and Donuts of Equine Manure Management. Saturday September 21st. Free. Flyer.
Over coffee and donuts, WNRCD and partners discussed what the state's Required Agricultural Practices means for horse owners and then toured a horse owner's manure composting bins to learn what does and doesn't work. Two Water Quality Training Credits were made available to farmers. In case you missed it, useful handouts: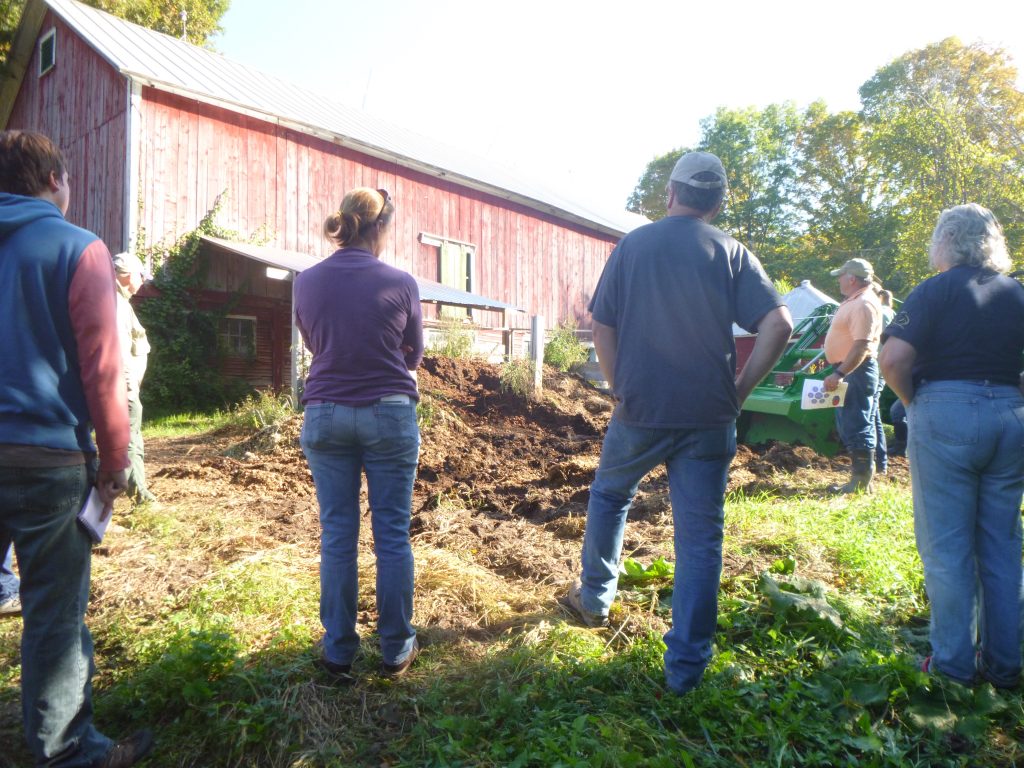 ———————–
Williston Stream Clean-up. Saturday September 14th. Free. Flyer.
Are you ready to get your hands (and boots) dirty for water quality? Winooski NRCD is seeking volunteers to help remove trash from local streams in Williston, VT on Saturday, September 14th.
A volunteer training will take place at 9:00am in the Goodwill Parking lot in Williston (64 Harvest Lane). Volunteers will then break into teams to clean up the identified sites. Work is anticipated to be complete around noon.
Volunteers will spend the morning wading through stretches of rivers to remove debris like bottle caps, cigarette butts and tires. Volunteers should wear tall boots and work clothes and be prepared for the weather. Work gloves will be provided if needed. Anyone is welcome to join, but WNRCD strongly recommends only bringing children over the age of 10. All children must be accompanied by an adult at all times. A thank-you reception with refreshments will be held at Burlington Beer Company after the event.
Why should you sign up? Removing trash from urban streams improves habitat for wildlife like fish, turtles and amphibians and it prevents debris from washing further downstream where it will end up in Lake Champlain.
The first 15 volunteers to sign up will receive a free Stream Team t-shirt on the day of the event (limited size availability)
This event is supported by the Chittenden Solid Waste District and the Town of Williston with additional sponsorship from Burlington Beer Company and Guy's Farm and Yard. We will end the morning with a volunteer appreciation event outside the Burlington Beer Company tasting room.
———————–
Community Septic Socials. Summer 2019. Free.
In summer 2019, WNRCD traveled to communities around the District to host localized septic socials. Have you thought about your septic system lately? Did you know the average life expectancy for a septic system can be as long as 40 years but as short as 15? A failed or near failing system could be sending unwanted bacteria into the lakes and rivers we love to swim and fish. If you're ready to learn about how to extend the useful life of your septic system, how to identify whether it has failed, and what to do about it, join us for one of these community events:
2019 Erosion Control Field Day. June 12th, 2019.
This workshop taught techniques for preventing and controlling stream bank and lake shore erosion for water quality. Materials and practices for controlling sediment run-off including native landscaping and bioengineering were displayed and presented. Participants gained hands on experience with emerging technologies and best practices. Workshop was designed for watershed practitioners, landscape designers, engineers, contractors, and the interested general public and offered six contact hours for professional development which could be applied to recertification for the three year Vermont Natural Shoreland Erosion Control Certification, and the EnviroCert recertification. Event was coordinated in partnership with the Vermont Department of Environmental Conservation Lakewise Program. For agenda see here.
Presentations
Implementing Conservation for Water Quality: A Conservation Commission Workshop. May 18 2019.
This training focused on empowering Conservation Commission members to identify water quality issues in their towns, connect with members of other commissions and walk away with a road-map for implementing projects. Topics included: Understanding the Basin Planning Process, Water-Friendly Agriculture and How to Fund It, Water-Friendly Forests & Water-Friendly Cities
Presentations
Waterfront Living in Vermont: A Septic Solutions Conference – May 9, 2019
The Septic Solutions conference was for Vermont homeowners along rivers and lakeshores as well as septic designers and installers to explore design and financing solutions to address our aging septic infrastructure. The conference shared innovative systems for small lots, available technology and financing resources, and provide continuing education credits for licensed septic designers.Conference was supported by the Lake Champlain Basin Program and New England Grassroots Environment Fund and was coordinated in partnership with Lake Champlain Sea Grant and the Department of Environmental Conservation's Lakes and Ponds Program and the Drinking and Groundwater Protection Division. Topics included Septic 101, Navigating the Permitting World, Financing Solutions, and Showcasing Innovative and Alternative Systems. Event offered 2 continuing education credits for licensed septic designers, and the morning segment was available via webinar. See flyer here , welcome packet here, and agenda here.
Presentations